If you want to use the popular WordPress CMS for your porn site(s) you should check out these porn themes designed from scratch or modified to suit porn picture sites and video tubes. They are all totally free and you can download them directly from this page! If you are using any of these themes you should check back here for updates once in a while and follow @PornoAffiliate on Twitter or subscribe to our e-mails for notifications about fixes and upgrades to the themes. Not very often but some updates will be made over time. New themes are also being developed. Please share your feedback in the comment section below. If you don't already have a host for you porn sites please check my article with suggestions for the best porn web hosting companies.
List of themes
The latest theme #5 was released in April of 2017. The later ones (#3+) are the best themes. They have a lot more features and better designs than the 2 first themes, which actually was created kind of in a rush.
Porn Theme #1
This theme is for porn gallery sites. This theme is pretty old now and requires and upgrade and update, so I would rather recommend using the newer #5 for photo galleries.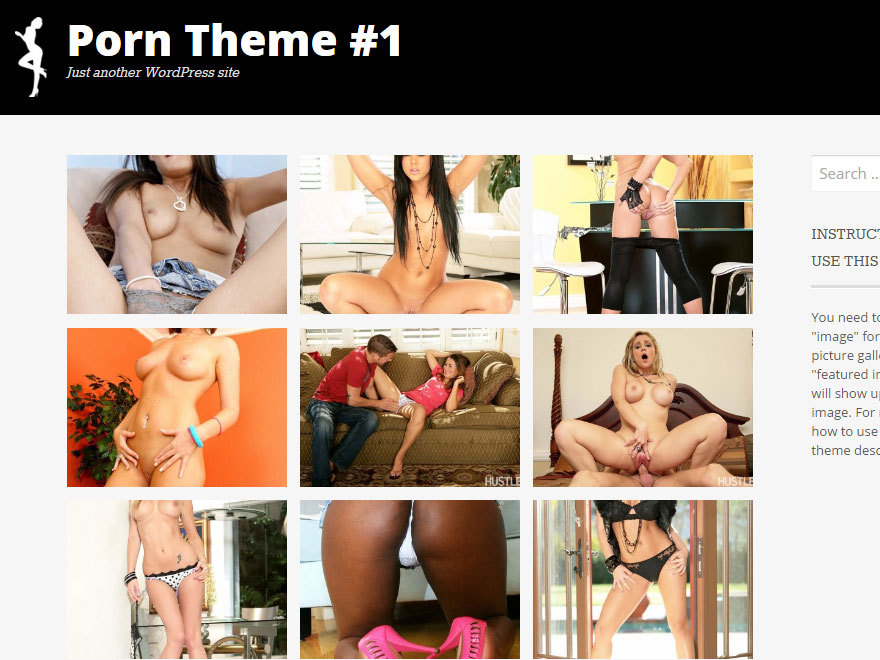 Porn Theme #2
This theme is intended for a general porn blog. It has red glowing neon design elements on a black background. Inspired by neon lights at night.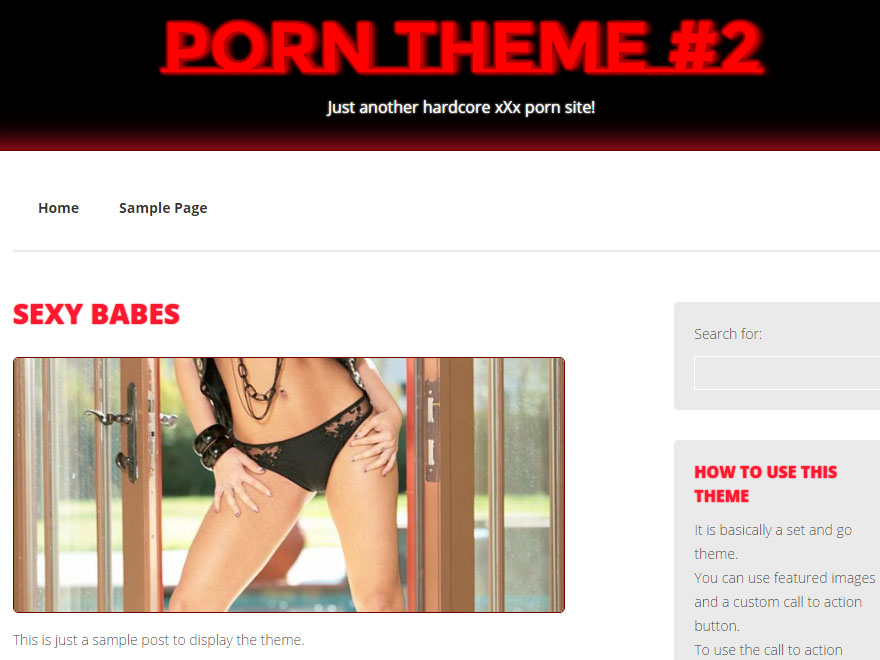 11.16.15 – Version 1.1 Released: New site title font and some minor changes for better mobile/small screen compatibility plus some changes to how images are displayed.
08.24.16 – Version 1.2 Released: New logo and new call to action (.c2a) button design.
10.20.17 – Version 2 Released: Face lift for 2017 with several design changes.
Porn Theme #3
For promoting MGP Movie Galleries and Hosted (Tube) Videos, which are so popular nowadays. Most porn affiliate programs got these and they keep updating with new fresh ones all the time so you will have access to a lot of content/marketing material to use on your site.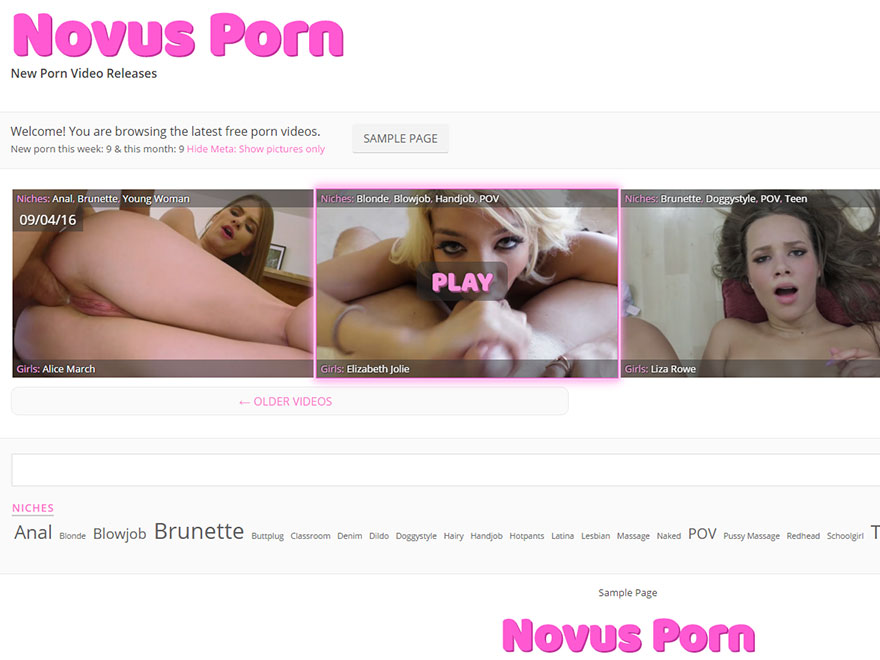 Features: 5 widget areas, 3 menu locations.
Show video: How to add new videos to your site.
How to use this theme
First of all you need content. Please check out our picks for best tube video programs.
Add a featured image to each post and make sure you add describing ALT attributes to every image. This will be the only content describing what your videos are about so they are very important, unless you add text content to each video, but the alt tags will be the text linking to the video so it's still very important!
Add the custom field name: "link" with value "http://url-to-video.com/" to every post.
Add the custom field "video" with value "http://url-to-video.mp4" when available. If you don't add this field the image will link directly to the hosted video gallery. (URL of "link")
Suggested amount of posts (Setting > Reading) per page is 12 or 24, since this is dividable by 4, 3, and 2.
You could add the movie name of the porn video in a custom field named "film". This makes it easier for visitors who get a membership to find the video.
More custom fields: "duration" (video length, example "8:20") and "quality" (enter for instance "Full HD" or "1080p") will be displayed on the video thumbnail and be part of the anchor text to the video.
Suggested plugins to use in combination with this theme: Lazy Load, so images will not load until they are brought into view.
Chrome plugins: Awesome Screenshot, to snap pictures of  videos to use as thumbnails, when there is no available and suitable picture @ the affiliate programs. Press SHIFT CNTL + V to snap a picture. To greatly reduce the image sizes to about 1 tenth at no noticeable quality loss: go into options and change from .png to .jpg. Images on the web are much better served in jpg then png!
PS. To disable a menu: simply create an empty menu and place it at the menu location you want to hide.
09.04.16 – Version 1.1 Released: Now possible to show videos directly on the site with the HTML 5 video player.
09.18.16 – Version 3 Released: You can add video duration and quality now that will display on the video thumbs.
Porn Theme #4
For creating a tube site with WordPress that lights up the night! Import from the major tubes, hosted videos from porn affiliate programs and add some MGP thumb links if you wish. Entirely free and it does not rely on payed plugins either.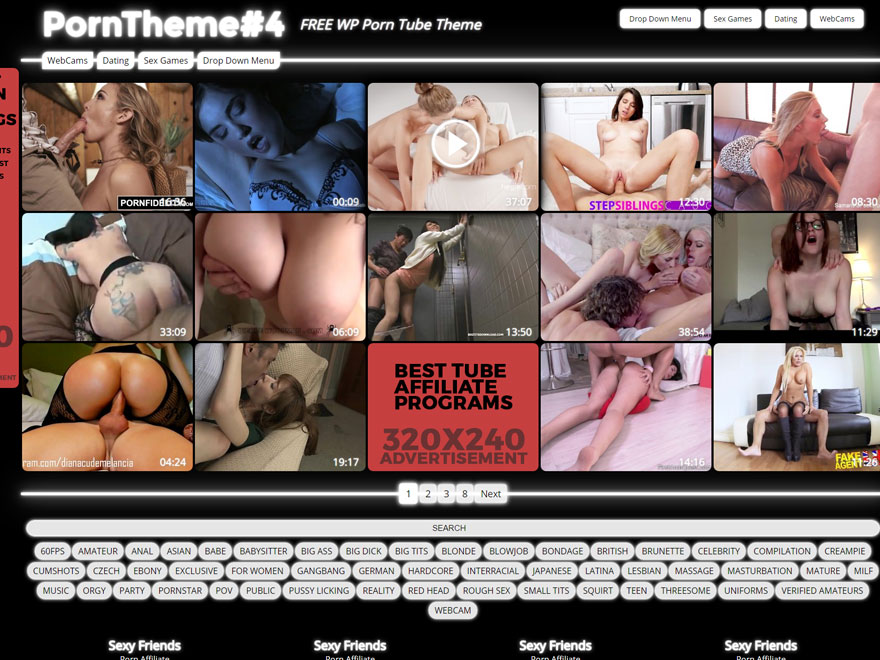 Features: 11 Widget Areas, 3 Menu Locations, Several Customizing Options
How to use this theme
First of all you need content. Please check out our picks for best tube video programs. You can also use the theme by embedding tube videos from many of the best tube sites. You will not be able to monetize those as easily though, and you will not get the autoplay features when using embedded videos instead of hosted videos.
Please see the guides for using custom fields for this theme below. Also the guide for star rating (if you would like to use that feature). There is also a guide for how to manually adding videos and bulk importing videos below.
Custom fields in use by this theme
duration – It can take a string of numbers (seconds) like 600 and it will be formatted like this: minutes:seconds (10:00). You can also enter a duration like that (minutes:seconds) directly. You could also use a custom value if you prefer, like for instance 2min40sec.
iframe – Choose to either use this custom field or the "video" custom field. Using one of them is required for showing videos on your tube. If none of them are in use, then a click on the video thumbnail will send the user to the "link" URL. Example value: <iframe src="https://www.pornhub.com/embed/ph5afb57343f064″ frameborder="0″ width="560″ height="340″ scrolling="no" allowfullscreen></iframe>
video – The source for the video. The URL should end with .mp4. Do not use both this and "iframe". Example value: https://videosite/video.mp4
rating – Will display on top right on the video thumbnails. It will display the score of the video on a 10 max scale. However, to fit with tube site imports you should import / enter a value on a 100 max scale like for instance "33" or "95".
movie_title – Will display on below the video. For giving the viewer the info he or she needs to find the full video at the paysite linked to in the "link" field. You probably wonæt use this with tube site import of videos.
quality – Will display on bottom left on the video thumbnails. Enter for instance "1080p" or "Full HD". You probably will only use this is you know that all videos you import at the same time from an affiliate program all use the same resolution.
link – This is the call to action link marked with a button on the video pages like this "Watch Full Video!". You don't want to use this if you are importing tube videos from PornHub and such because the link would only send people off to watch the same video at their site instead. You can send visitors directly to the "link" URL you input here if you leave both the "iframe" and "video" custom fields empty.
Ideal WordPress setting and ad sizes
The "Blog pages show at most" setting should be set to 46 posts, to best fit the "In-Tube-ads". You can certainly use another value though if you don't use the "In-Tube Ads" or if you change the theme placement of these ads.
For all the "In-Tube Ads" sidebars you should use images the same size as the video thumbnails: 320 x 240 px.
"Single Video Left" and "Single Video Right" each fits two 300 x 300 px ads. You could use different height ads though and fit more or less of them. The ads could also be a little wider, up to 350 px. "Single Video Left" will hide on smaller screens than 1450 px wide, and "Single Video Right" will hide for screens less than 950 px wide.
"Right Ad" and "Left Ad" whould be 120 px wide. If you do a little tinkering in the CSS you could use other sizes too.
10.18.16 – Version 2 Released: Star rating support, 2 more widget areas for displaying ads within the loop at the very first position and last position, better responsive design (thumbs will now center), better performance with the Safari browser plus some minor design fixes.
10.20.17 – Version 2.1 Released: Small fix to the drop down menus which were not always on top of all elements on page.
05.21.18 – Version 2.2 Released: Small Fixes to responsiveness. The theme now should use 46 posts on each page, when using the Second and Third In-Tube Ad sidebars. You can change it with the setting "Blog pages show at most" under "Settings" > "Reading". New setting: Starry Background. If you think the black background is a bit boring you can change it to a starry sky instead. The image used is only 20 kb.
27.05.18 – Version 2.3 Released: Added option under "Miscellaneous" to set archive pages, including front page to display random videos. Fixed the size of the video player on smaller screens, now utilizing the full width of the display. Added a dark background to be able to read the video details like title, niches, description etc more easily on the single video viewing pages.
Add star rating functionality to the theme
Give your visitors the option to rate the videos and see what others have rated with custom styles stars to fit the theme.
Install WP-PostRatings plugin by Lester Chan.
Download PornTheme custom star graphics. Then upload that .zip file to yoursite.sexy/wp-content/plugins/wp-postratings/images/ and extract it there. (Be aware that these images will be deleted when you update the plugin)
On the admin area of your WordPress install you should see a menu item called rating. Click on that and go to "Ratings Options" and select the "porntheme-starrating" stars and set "Max Ratings" to 10 (important that it is set to 10!)
Then go to "Ratings Templates" and change the "Ratings Vote Text" & "Ratings Voted Text" to <div class="pt-rating-stars">%RATINGS_IMAGES_VOTE%</div> <div class="pt-rating-text">%RATINGS_USERS% votes, average: %RATINGS_AVERAGE% out of %RATINGS_MAX%</div>
Change "Ratings None" to <div class="pt-rating-stars">%RATINGS_IMAGES_VOTE%</div> <div class="pr-rating-text">No Ratings Yet<br />%RATINGS_TEXT%</div>
How to import from Hub Traffic and PornHub
This video shows how to export videos to .csv from Porn Hub and then importing it to a WordPress site using PT#4. Be sure that you have all the custom fields installed before importing for an easier import. You can just create a dummy post with bogus values for the custom fields to add them.
Here is the header for the .csv file used in the example in the video: iframe|post_tag|rating|post_title|duration|post_category|featured_image
Make sure to check that the right values go in the right custom fields when importing. You might need to select some of them manually.
Manually adding new videos
If you want higher quality content on your site you should write your own descriptions and add your own tags, as well as having a unique screenshot for the video thumb. Check out how I add content to a tube this way in the video below. You can find the affiliate programs used here.
Porn Theme #5
This is a picture gallery theme with 111 live customization settings you can use to customize the design of your gallery site in lots of different ways without touching any code.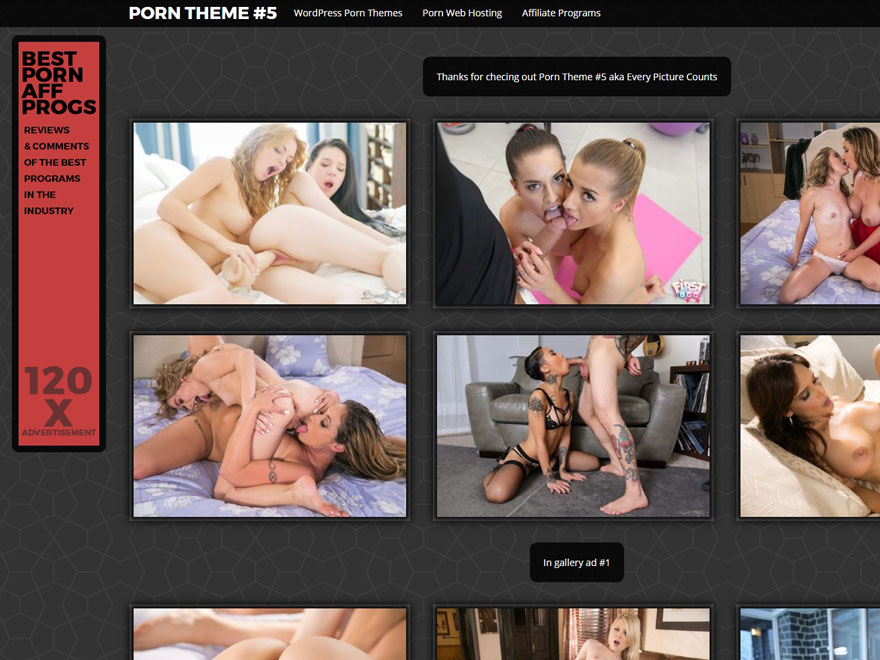 Simply set a features image for a post an it will be a gallery entry for the site. You can add content and tags and categories like normal, with WordPress. Use custom fields to link to the FHG.
Custom fields for this theme
c2a – The call to action text you want to use. The text will default to "Buy this photo" if empty, when "c2a_link" has a value. You can set a new default text in the customizer options of the theme.
c2a_short – Short version of the call to action text. Keep it short for mobile compatibility. It will default to "Buy". You can set a new default text in the customizer options of the theme.
c2a_link – If you want a call to action button to display below the photo in the gallery when mouse over (if you have not disabled "Show Photo Meta On Mouseover" in the options) and above and below the photo when viewing the full photo (if you are not using lightbox). Enter the URL you want visitors to go to when clicking the call to action button. You can let your visitors go to this link address when clicking the up arrow on a single photo page when at top of the page. Good for quick access if the call to action links are a big part of your website.
04.11.17 – Version 1.1 Released: Fixed some mobile responsive issues and a couple of other things.
Porn Theme #6
Create your own porn site list / link collection site with ease and for free with this theme. Several customization options.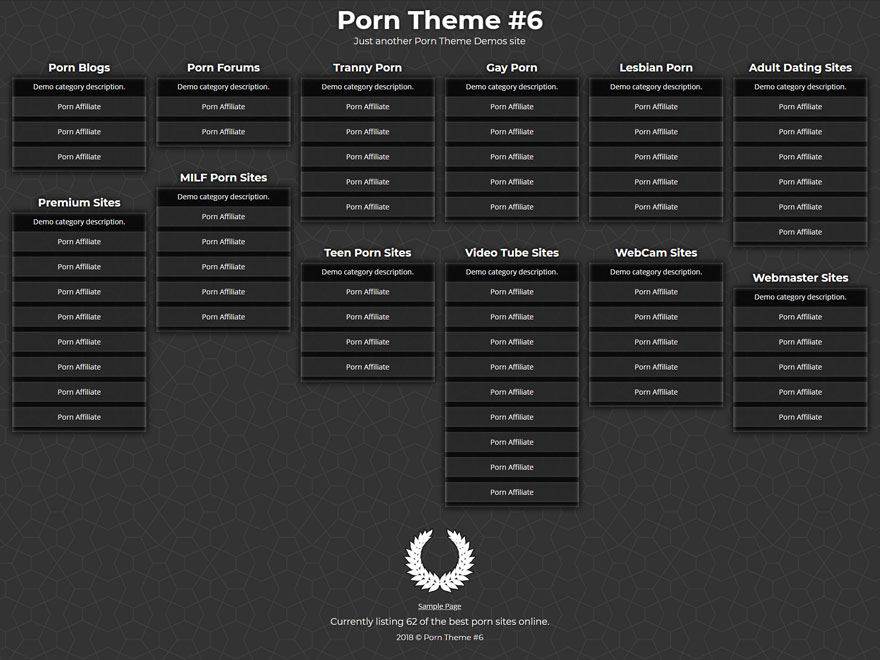 Simply add new sites in the dashboard and make sure to add a title for the site as well as a category. To add a description for the site, simply enter in the text area below the title field. You also need to use the custom field described below. You can use this free plugin to change the order of your category link boxes. Here is the favicon (site icon) used in the demo.
Custom fields for this theme
link – The external link to the site.
Thanks for using PornAffiliate.xxx themes! There is a comment section below you can use to get support or let us know your feedback. If you have requests or ideas for new themes that you want to share that is also appreciated!